Zlatan Ibrahimovic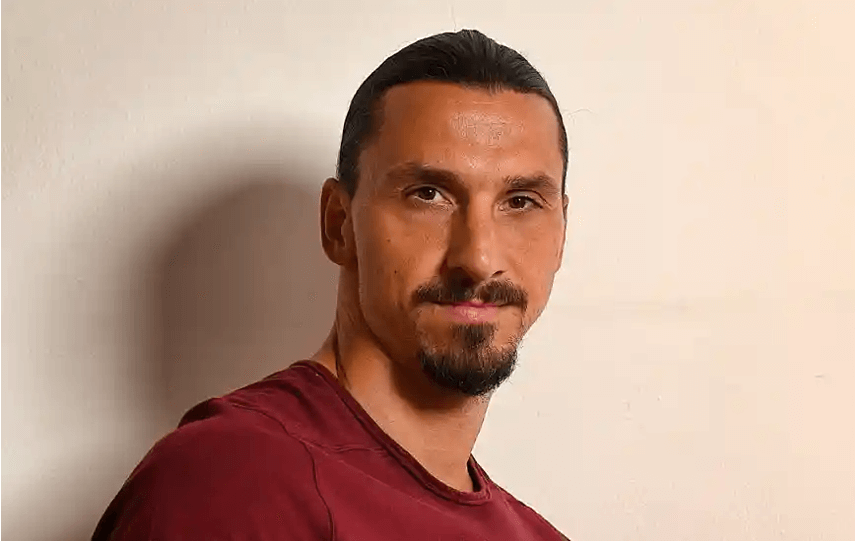 Zlatan Ibrahimovic is an ace Swedish footballer who plays for the AC Milan club. He served the Swedish football team as a captain from 2010 until he retired from international football in 2016. Known as one of the most prolific strikers, Ibrahimovic is well*known for his strength, precision and stamina. Having won 33 trophies in his football career, he has become the second most decorated active footballer of present times.Zlatan Ibrahimovic currently plays as a striker for AC Milan in the Seria A. He is greatly known for his immeasurable confidence, massive wingspan, body balance, shot power, accurate first touch, jaw-dropping goals, acrobatic controls and slick dribbles.
Joining LA Galaxy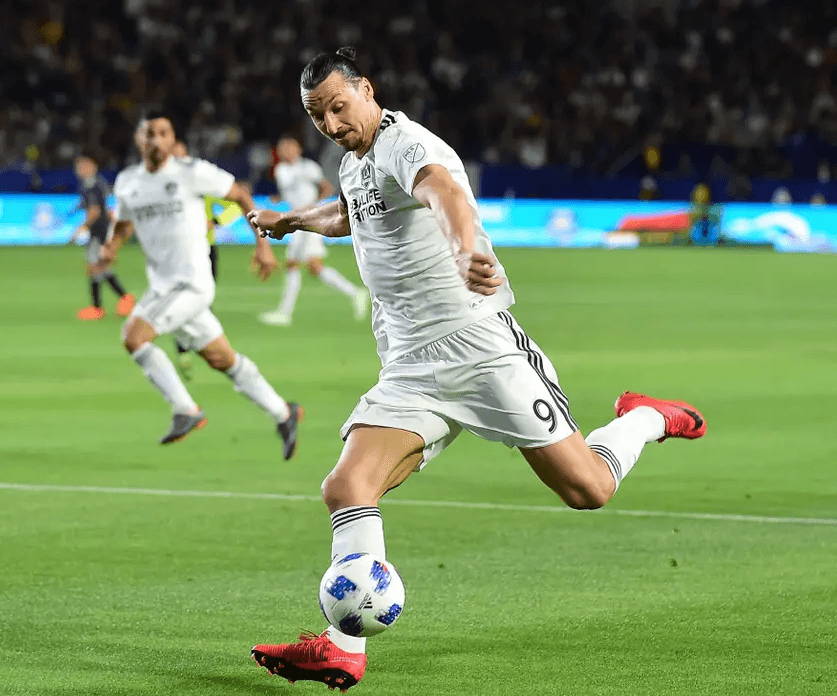 Ibrahimovic joined LA Galaxy in March 2018. It would be a much-welcomed debut for Ibrahimovic, who came off the bench to bag a brace in the inaugural 'El Trafico' derby against Los Angeles FC.
Ibrahimovic scored his 500th senior goal against Toronto FC in 2019, a club to which he referred as his "500th victim". His debut season saw him named in the MLS Team of the Year, while he also won MLS Goal of the Year and MLS Newcomer of the Year. Ibrahimovic was in competition with former striking partner Wayne Rooney, who had joined DC United in 2018 from Everton.
In 2019, Ibrahimovic was named club captain for the Galaxy. The most famous storyline of the season was his competition with LAFC's Carlos Vela who ended up scoring 34 goals in 31 games, breaking the record of 31 set by Josef Martinez in 2018. With the debate between Ibra and Vela at its peak going into the Los Angeles derby, the Swede bagged a hat-trick to fire LA Galaxy into the 2019 MLS Cup play-offs.
The Swede announced his departure from the side in November 2019.
Shining at Other Clubs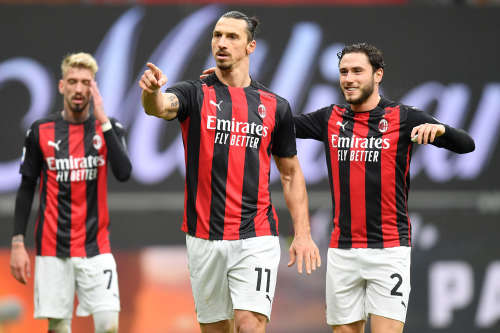 Following his time at Ajax and Juventus, Ibrahimovic moved to Inter Milan and enjoyed two trophy-laden seasons at San Siro. It was his second campaign under Jose Mourinho where he attracted interest from clubs around the world after scoring 25 league goals, which helped Inter win Serie A.
Ibrahimovic joined AC Milan on loan in 2010/11 before moving in a permanent deal the following season. In his first spell at the club, he guided the club to the league title and Supercoppa Italia. It was his sixth Serie A medal having won three at Inter and two at Juve, although his wins at the latter were revoked by Calciopoli.
In 2019, Ibrahimovic returned on an initial six-month deal with a potential 12-month extension added in the contract. After proving his worth with 10 goals in 18 league appearances, Milan extended his stay.
In 2020, Ibrahimovic's two goals against Inter made him the oldest player to score in the Derby della Madonnina at the age of 39. It was his first game after recovering from COVID-19, which saw him miss three fixtures.
The forward also played four seasons for Paris-Saint Germain and won three league titles, two domestic trophies and three Super Cups. In 2015/16, he scored the most goals in Ligue 1 history with 38 - the previous record being 37 by Carlos Bianchi in 1977/78.
Ibrahimovic is the second highest goalscorer in the club's history with 156, with former striking partner Edinson Cavani scoring 200 goals. However, the South American played 301 games compared to Ibrahimovic's 180.
A reunion between Ibrahimovic and Mourinho happened in 2016/17 when he left PSG on a free transfer to join the Portuguese coach at Old Trafford. During his time at Manchester United, he won the EFL Cup and UEFA Europa League. He notched an impressive 28 goals in his debut season, becoming the oldest player to score 15 or more goals in a Premier League season.
National Team Career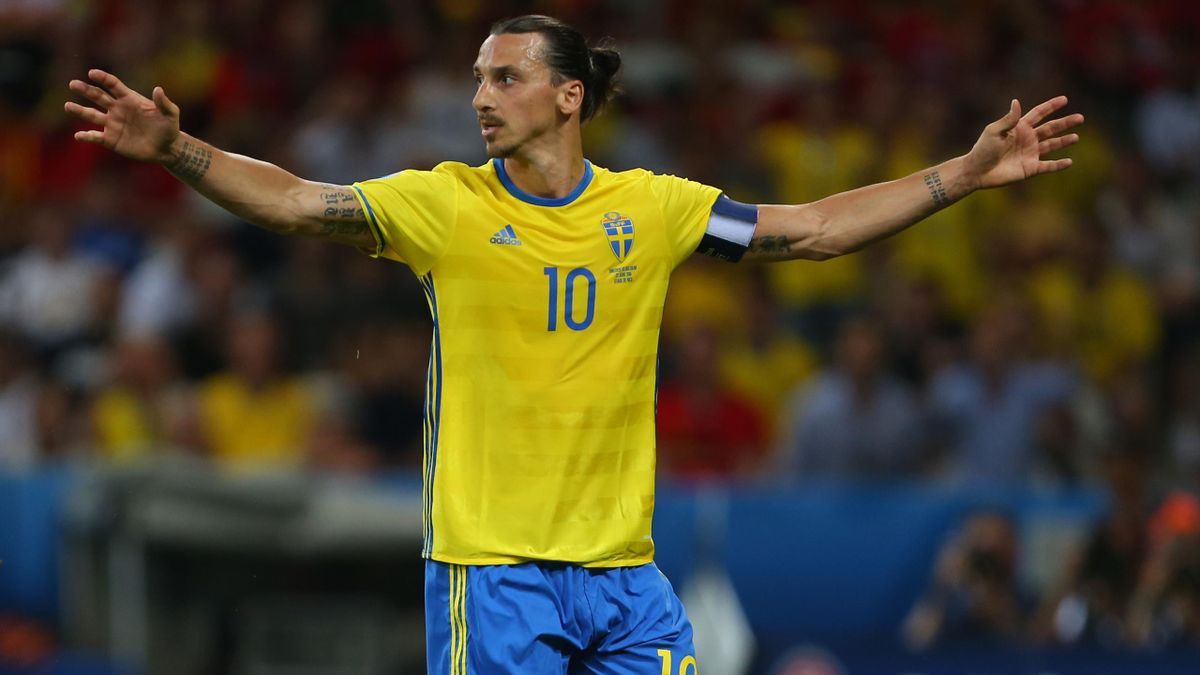 Eligible for Sweden, Bosnia & Herzegovina and Croatia, Ibrahimovic chose to represent the Sweden national team.
On the 14th of November 2012, he netted all the goals in a 4-2 match win against England and the fourth one was from 35yards out with a bicycle kick while facing his own goal. The goal won Puskas 2013 FIFA Puskas Award for the goal of the year. Ibrahimovic netted his 50th national team career goal in a 2-0 friendly match win over Estonia on 4th September 2014, making him the Swedish all-time leading goal scorer. On the 8th of September, Zlatan made his 100th advent for the Swedish national team in a qualification match against Austria.
On 21st September, he announced that he had retired from international football immediately after Sweden's last match at the 2016 Euro.
He returned to the fold in 2021, at the age of 39, assisting Ludwig Augustinsson in a 3-0 win over Kosovo.
However, plans to appear in a fifth successive European Championship were shelved when he sustained an injury just days prior to the 2020 squad being announced.
Nevertheless, Ibrahimovic remains Sweden's all-time leading goalscorer with 62 goals in 118 games and remains just the second male player to earn 100 or more caps.
Zlatan Ibrahimovic jersey
Even for massive clubs like AC Milan, PSG, and Inter, Zlatan Ibrahimovic has always seemed larger than life. So you can imagine what he was to the Swedish national team.Do you admire him? Get the Zlatan jersey to be the standout fan on the stadiums. SoccerDealShop has Ibrahimovic jersey, mainly Zlatan Ibrahimovic AC Milan jersey available now. Shop the Zlatan Ibrahimovic jersey earlier before it's sold out.