Brief Introduction of Ronaldo
Cristiano Ronaldo is a Portuguese forward who currently plays for Manchester United and captains the Portugal national side.
With over 750 career goals, Ronaldo is regarded as one of the greatest soccer players of all-time, having won more than 30 major trophies, including five UEFA Champions League titles, one UEFA European Championship and one UEFA Nations League.
As it stands, Ronaldo holds the record for most goals and assists in Champions League history with 130 and 41, respectively.
Soccer Life of Cristiano Ronaldo
Ronaldo at Manchester United
Ronaldo who was the first Portuguese signing by Manchester United had the most expensive signing for a teenager in the 2003–2004 season. He proved his worth as he became one of the best players in Europe. While Ronaldo played in England, he became the first player to break the 20-goal barrier and helped United claim their first League title in four years. His achievements didn't go unnoticed as he received Professional Footballer's Association's Player, Young Player of the Year and the Football Writers' Association Footballer of the Year, making him the first player to receive four major PFA and FWA award for two consecutive seasons. He also won the Premier League Golden Boot for his 31 goals and European Golden Shoe, the first winger to achieve the feat.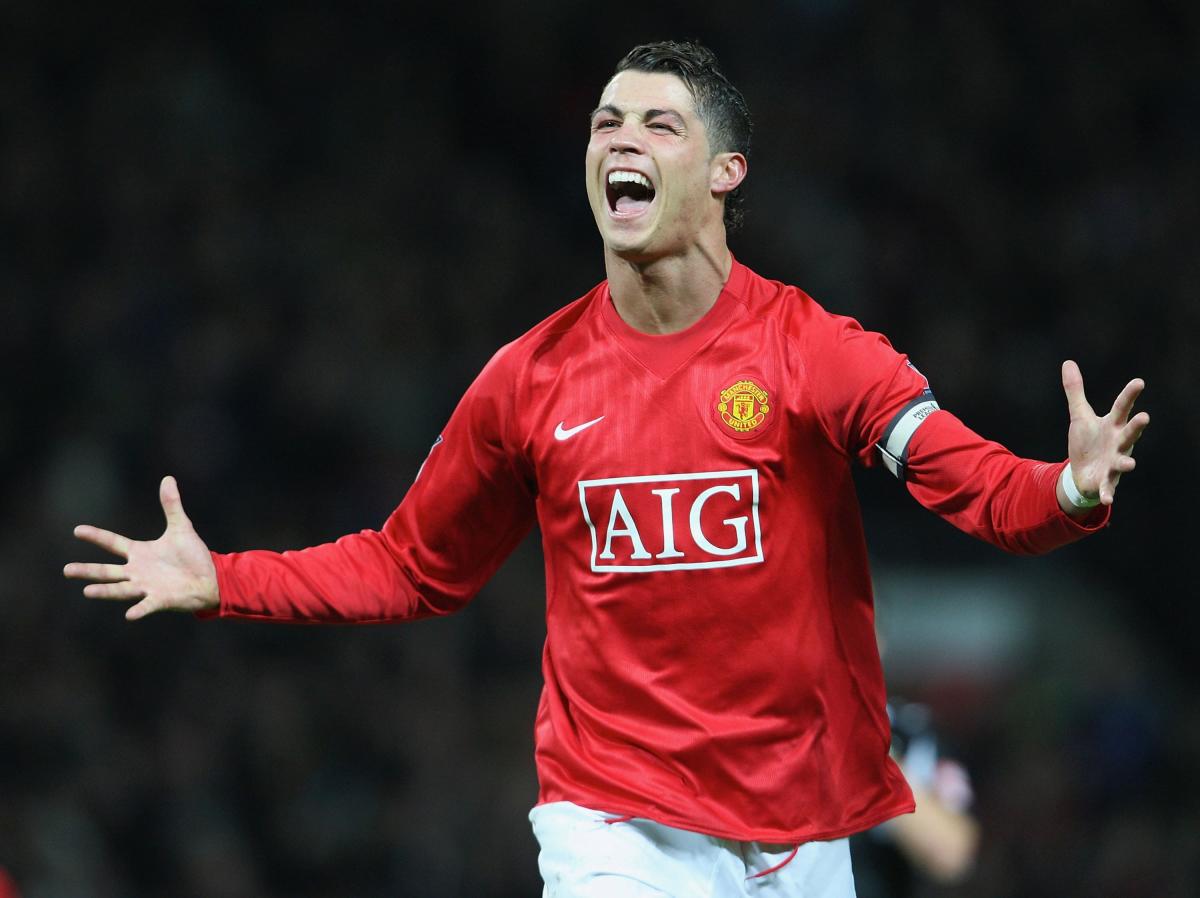 In the Champions League, Ronaldo inspired United to clinch Europe's prestigious tournament which earned him the UEFA club footballer of the Year Award. Ronaldo rounded off his time with United with the Ballon d'Or award, becoming the first Premier League Player to be named the FIFA World Player of the Year. He also received the FIFA Puskas Award for best goal as well as winning the Premier League with United for the third time. Ronaldo claimed a total of nine trophies while at Manchester United.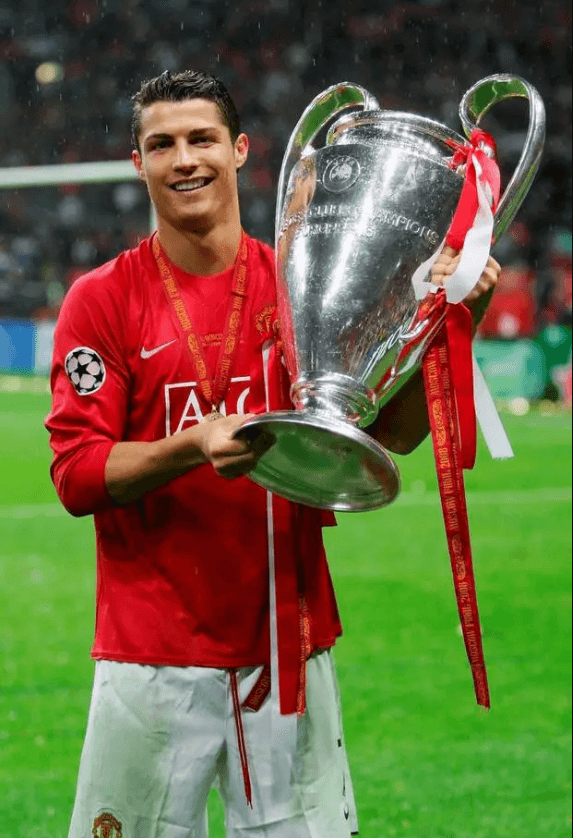 Ronaldo at Real Madrid
Ronaldo secured a move to Real Madrid before the start of the 2009–2010 season. During his time at Madrid, he forged an attacking trio, known as the BBC, an acronym for Bale, Benzema and Cristiano with his fellow teammates. He enjoyed a successful run, which made him admit he was in the best form of his career.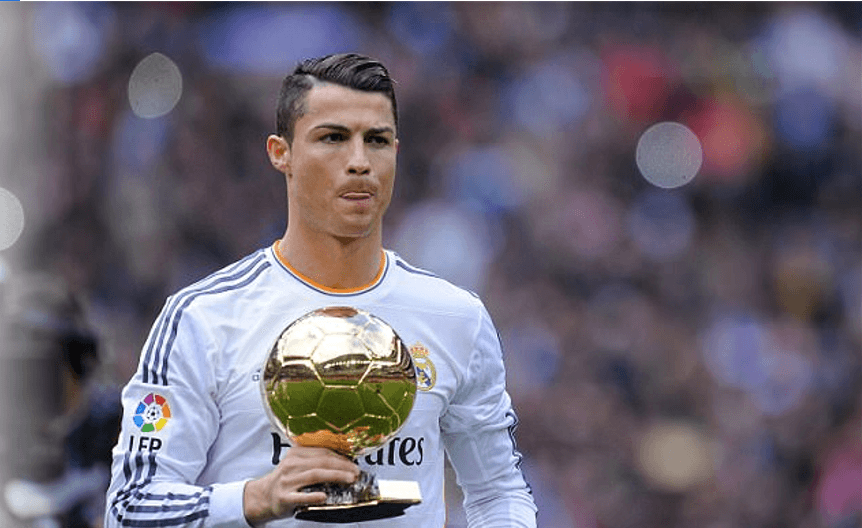 Ronaldo won the FIFA Ballon d'Or an amalgamation of the FIFA World Player of the Year and the Ballon d'Or. Ronaldo also helped the Madrid to their tenth European championship, La Decima and as well as their 12thLa Duodecima. Ronaldo particularly achieved more in his final days with Madrid becoming Madrid first Player to score a total of 5,900 goals. He also became the first player to score 100 goals in a UEFA club competition. Ronaldo emerged the top scorer of the UEFA Champions League for a fifth consecutive season. He led Madrid to their twelveth European title, La Duodecima earning him his fifth Player of the Year award. Ronaldo received the Ballon d'Or award a day after winning the FIFA Best Men Player Award. The highest point of his last days with Madrid was his bicycle kick goal in a 3-0 away win over Juventus which was lauded by the opposition fans. The goal was labelled as a "Playstation goal" by Juventus defender Andrea Barzagli.
Ronaldo's Return to Man.United
After spending three full seasons with the Old Lady, in which Ronaldo scored 81 goals in 98 games, the 36-year-old decided to move on from his time in Italy.
After strong links to Manchester City, Ronaldo informed his teammates that he would be immediately leaving the club in August 2021, and seemed to set out on his journey back to England.
However, in typically dramatic circumstances, Ronaldo's former side Manchester United also entered the running for his signature, and a tug-of-war between the two soccer powerhouses commenced.
Eventually, it was confirmed on August 31 that Ronaldo had reunited with his former side for a fee of £25million, 12 years after his initial departure to Real Madrid.And he was given the Ronaldo jersey Manchester United the same number as before-Number 7.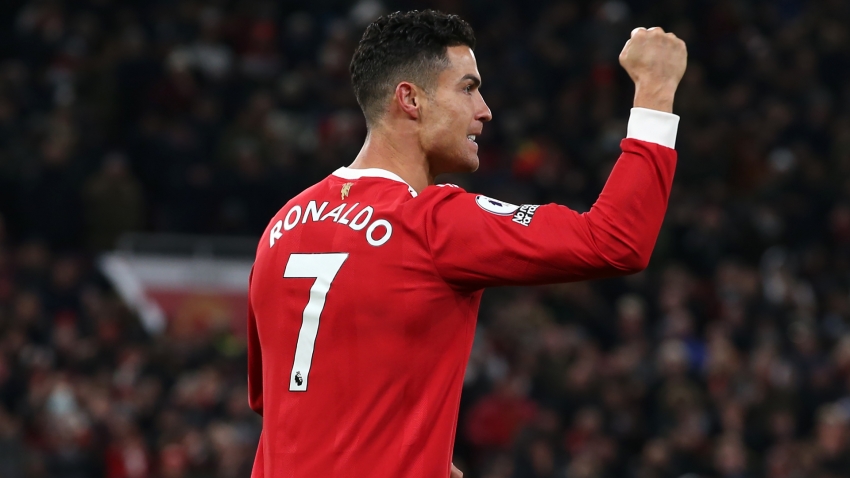 Ronaldo at Portugal National Team
After beginning his national team career in 2001, Ronaldo became a regular face in the Portuguese National team squad, appearing in the 2002 URFA European Under-17 Football Championship, the 2004 summer Olympic as well as in the under-15, under-17, under-20, under-21 and under-23 national teams, before debuting for the senior team at age 18. After a series of trials at the Euros, Ronaldo finally led Portugal to the Euros success in 2016. He last featured for the Portuguese side in the 2018 FIFA World Cup in Russia where he had a spectacular performance. Like his club side, the number of Ronaldo portugal jersey is also No.7.
Among the greatest of all time to have graced the football pitch, entertaining us with a unique style of play, outstanding dribbles, sensational goals and electrifying speed, Cristiano Ronaldo stands out.When you're showing your support for Cristiano Ronaldo, there's no better option than a Ronaldo jersey. Support him with Ronaldo jerseys. Soccerdealshop has a wide range of Cristiano Ronaldo jersey for men and kids sizes, including Portugal Ronaldo jersey and Cristiano Ronaldo Manchester United jersey(Ronaldo Manchester United jersey long sleeve and short sleeve). Support him with Cristiano Ronaldo jersey now. A Ronaldo Man U jersey or Ronaldo Portugal jersey? It's your choice.