Introduction of Robert Lewandowski
Robert Lewandowski is a Polish professional footballer who plays as a striker for Bundesliga club Bayern Munich and is the captain of the Poland national team. Recognized for his positioning, technique and finishing, Lewandowski is considered one of the best strikers of all time, as well as one of the most successful players in Bundesliga history. He has scored over 600 senior career goals for club and country.Support him with Lewandowski jersey, including Poland Lewandowski jersey and Lewandowski Bayern jersey.
Robert Lewandowski's Football Career


Early Years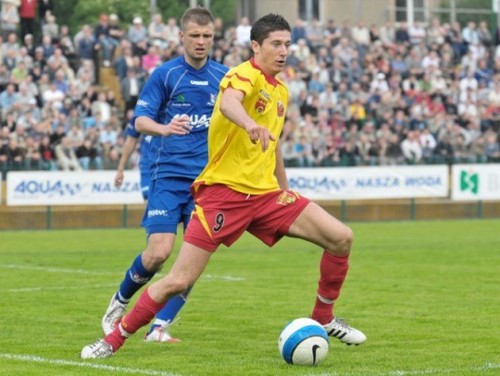 Before he established himself as one of the best players in the Bundesliga, Robert Lewandowski was playing in the third tier of Polish soccer with Znicz Pruszków. In his first year of senior action, the 18-year-old forward led the league with 15 tallies and followed it up with another dominating year in the second division with 21 goals.
These impressive displays led to Lech Poznań, a first division Polish club team, signing the big man in 2008, and also earned him a call up to the Polish national side. In his first appearance for the senior national team, Lewandowski came on as a substitute and scored a debut goal against San Marino. Domestically, the striker continued his scoring habit netting in his debut in the Polish first division, while also proving vital for Poznań's Europa League campaign scoring four times in the competition. At the end of the season, the new signing had scored 14 times in the league, and 20 times in all competitions. He followed up this impressive debut season by scoring 18 goals in his sophomore campaign and leading the league in scoring as a 22-year-old.
The move to Germany posed an apparent learning curve as the 2010-11 season ended with Lewandowski finishing with his lowest professional tally of just nine goals in 41 appearances, but managed to earn himself a Bundesliga winners' medal as Dortmund won the league for the first time in almost 10 years.
2011 saw the return of his scoring form, however, as an injury to Lucas Barrios gave the Polish international a chance in the starting eleven. At the end of the year, Lewandowski had scored an astounding 30 goals in all competitions for Dortmund, while also registering 10 assists. His impressive form in the 2011-12 campaign helped to retain the Bundesliga title for a strong Dortmund side, while also achieving a domestic double by winning the DFB-Pokal, the club's first time winning the cup since 1989.
After informing the club that he would not be renewing his contract past the 2013-14 season, the want-away marksman managed to still score 28 times for his current club. In his final season with Dortmund, Lewandowski helped the club to a second place finish in the league and also a runner-up finish in the DFB-Pokal, losing both of these titles to Bayern.
Changing Stripes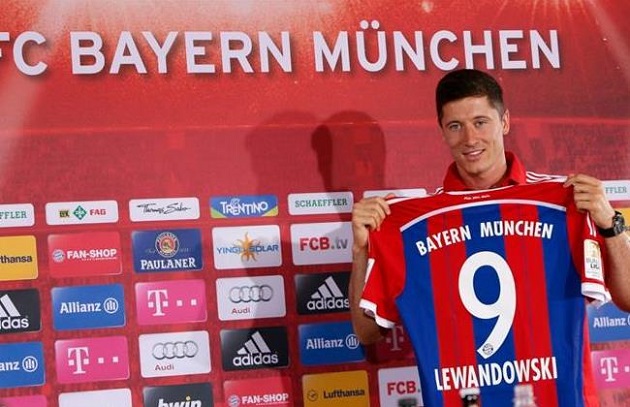 In the middle of the 2013-14 season, Lewandowski informed the world that he had signed a pre-contractual agreement with Bayern Munich.In his first year with Bayern, Lewandowski has once again forced his way into the starting lineup starting 21 matches out of a possible 26, while coming on three times as a substitute. The change of scenery has done nothing to slow down the striker's goal scoring as he has put away 13 strikes in the Bundesliga, with another four goals coming in the cup and Champions League. One of those 13 goals came in a 2-1 victory in Lewandowski's first game against his former side Dortmund. Currently, Lewandowski and Bayern sit atop the Bundesliga with a commanding 10-point lead and have moved into the quarterfinals of the Champions League.
Honors of Robert Lewandowski


The art of the striker – Robert Lewandowski jersey
When seen on the field, the Lewandowski jersey inspires confidence in the hearts of fans and fear in the hearts of opponents. There are only a handful of offensive players that are able to combine so many talents and abilities as a striker as our number 9 forward. Lewandowski's intelligence and quick decision-making have served to keep this man ahead of the competition and constantly on the ball, seeking out scoring opportunities at every turn. His strength as a striker makes him tremendously effective, because even in the most important matches he is always playable and brings in wins left and right. Between speed and agility, Lewandowski leaves his opponents in the dust and has the fans of FC Bayern München cheering.
Robert Lewandowski – Bayern München's top striker
Robert Lewandowski's first steps as a footballer began in his hometown of Warsaw, Poland. After two very successful seasons at Lech Poznan, he quickly became a top scorer in the Polish league and moved to Germany for Borussia Dortmund. There he quickly became a high-performance player and a top scorer in the Bundesliga. Since the 2014/2015 season, Robert Lewandowsi has borne the number 9 Bayern Munich Lewandowski jersey proudly and performed spectacularly with his German team. Lewandowski also plays for the Polish national team, where he performs the role of team captain. Lewandowski is always an entertaining player to watch and is nearly guaranteed to score exciting goals. In the 2019/2020 season, Robert scored a sensational 34 goals for Bayern München.
Top scorer of Bayern München
With his effective and inspiring play, Robert Lewandowski has quickly won the hearts and minds of fans of FC Bayern München. The jersey of our current centre-forward can bring out the true FCB fan in you as well. Whether you're viewing the team at the Allianz Arena or hanging out with your friends, the Robert Lewandowski jersey is the perfect sportswear for any fan of FC Bayern. When you don your own number 9 jersey, you're instilling in yourself a little piece of the indomitable spirit and excellence that are hallmarks of Robert Lewandowski's football success. The Robert Lewandowski jersey is available in a number of colours, sizes and cuts for men, women and children. Pair it with some other merchandise and really complete your FC Bayern fan regalia.
Lewandowski is a true out-and out striker, a legendary goal scorer,a constant threat inside the penalty area.
Lewandowski is always an entertaining player to watch and is nearly guaranteed to score exciting goals from he plays for Polish national
team to Bayern München's top striker.
Whether you're a fan of Lewandowski or a shirt collector, the Robert Lewandowski jersey is the perfect collection in everyone's wardrobe.
When you don your own Lewandowski jersey, you're instilling in yourself a little piece of the indomitable spirit and excellence that are hallmarks of Robert Lewandowski's football success.SoccerDealShop provides Robert Lewandowski jersey like Robert Lewandowski Poland jersey and Bayern Munich Lewandowski jersey in men and kids' sizes. Take your pick!
If you are looking for Lewandowski Poland jersey, click here
If you are looking for Lewandowski Bayern jersey, click here
If you are looking for Lewandowski Barcelona jersey, click here