Erling Haaland has made an explosive start to life at Borussia Dortmund with his 11 Bundesliga goals coming in at an incredible rate of one every 72 minutes, but where did it all begin for the 19-year-old Norwegian goal-fiend?
Haaland may be two games into his senior international career with Norway but he was born in Leeds, England. His father, Alf-Inge Haaland was a professional footballer and had just made a switch from Leeds United to Manchester City before his son was born.
Bryne Beginnings
Haaland grew up in Bryne, Norway, and began his football career there with Bryne FK.
His performances in the reserve side in the 2015/16 season, where he scored 18 goals in 14 matches, led to a first-team debut aged just 15.
He went onto play a further 15 matches for Bryne in the second division of Norwegian football and although he did not score in this period of time, he was developing into a man at Byrne FK.
During his time with Bryne, Haaland had a one week trial with Bundesliga side, Hoffenheim. The club was willing to sign the young Norwegian but the two parties could not agree on a wage.
Haaland stayed put in Norway and moved to Molde in February 2017.
Joining Molde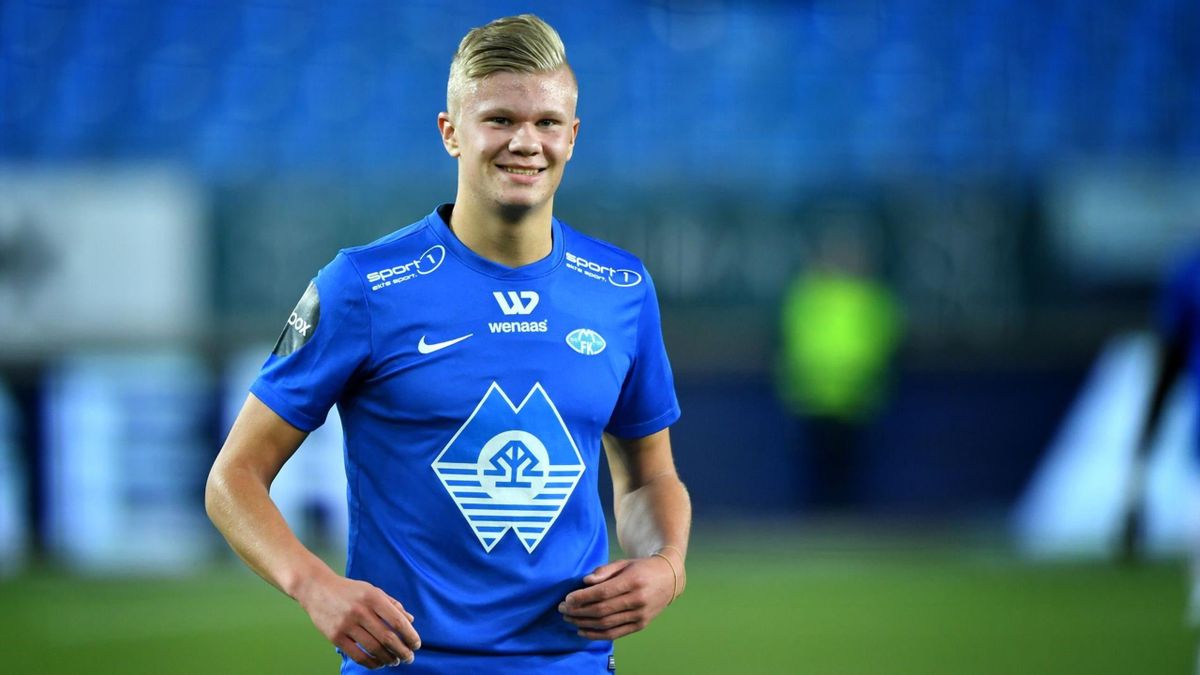 Ole Gunnar Solskjaer brought the young striker to the Eliteserien club. Being a pretty good striker himself in his day, the former Manchester United man clearly saw potential in the teenager.
This led to Haaland getting his debut with the first-team on April 26, 2017. Solskjaer's trust was repaid. Haaland scored in a 3-2 win against Volda TF and the forward's career was kickstarted.
The following season he really made a name for himself at the Aker Stadion. He scored 12 goals in 25 matches, with four of them coming in one match against SK Brann who were unbeaten in the league at the time. It took the then 17-year-old just 17 minutes to score his four goals.
This great performance was made in front of a Manchester United scout, lending weight to the later interest in the teenage sensation from Old Trafford.
Haaland finished the 2018 season as Molde's top goalscorer with 16 goals and he also received the Eliteserien Breakthrough of the Year award.
In August that year, RB Salzburg announced that Haaland would join the club from Molde in January 2019.
Moving to RB Salzburg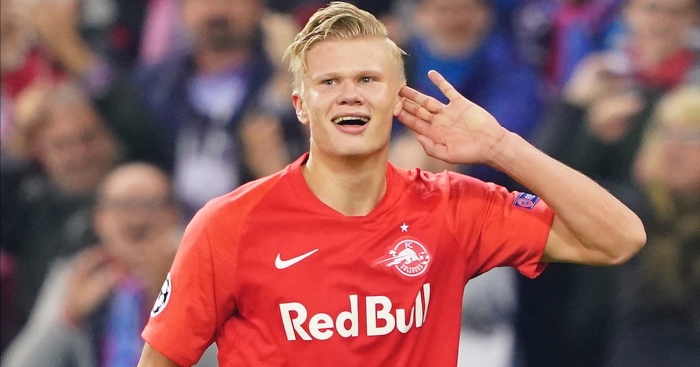 Haaland made his first appearance for RB Salzburg on February 17, 2019, in a 2-1 win against Wiener Neustadt. His first goal came in another 2-1 win, against LASK.
However, he only made five appearances for Salzburg in his first season, and it was his second with the club that he took the spotlight in the Austrian Bundesliga.
The 2019/20 campaign began with a bang. Haaland scored his first hat-trick for Salzburg on August 10 in a 5-2 win against Wolfsberger AC.
He would score four more hat-tricks for the club, with one coming in his Champions League debut — the competition where Haaland really showed his talent to the world.
His Champions League hat-trick came against KRC Genk, but he would then score in his following four Champions League matches, including in games against Napoli, and once against Liverpool.
Haaland had an impressive goalscoring record with RB Salzburg, to say the least. 28 goals in only 22 matches brought interest from some of the biggest clubs across Europe, including Manchester United and Borussia Dortmund.
Borussia Dortmund Spotlight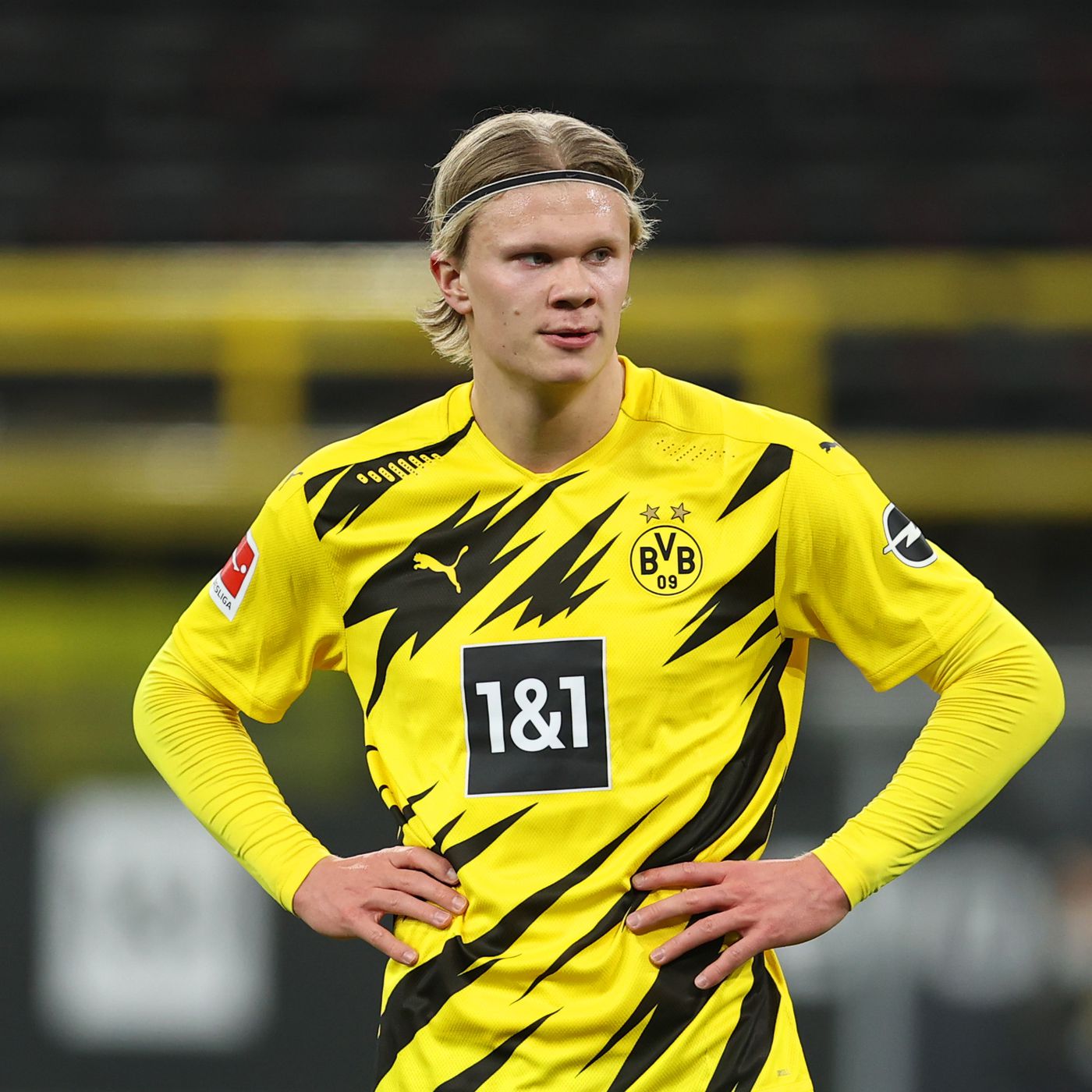 Haaland was the most sought after youngster in Europe when Dortmund managed to persuade him to join them in North Rhine-Westphalia.
His explosive season at Salzburg certainly didn't slow down in Germany. His first appearance came from the bench, his side was 3-1 down to Augsburg – three Haaland goals later saw Dortmund emerge 5-3 victors.
He became the second-ever Borussia Dortmund player to score a hat-trick on their debut.
Since the Norwegian moved to Germany he has scored 13 goals in 15 games in the Bundesliga. He also continued his impressive Champions League form for BVB against Paris Saint-Germain, where he scored twice in the first leg to give Dortmund the upper hand in the tie — though they were eventually knocked out following a 2-0 defeat in the second leg in Paris.
It is quite clear that his performances throughout the 2019/20 campaign, for both Salzburg and Dortmund, have uncovered a talent but not just any talent - one of the best in world football.
Haaland jersey
Are you a fan of Haaland? If you want to show your love and support for Haaland, there is no better option than a Haaland jersey. Haaland jersey is a must collection in every fan's wardrobe. SoccerDealShop is home for Erling Haaland jersey including Dortmund haaland jersey and Haaland Norway jersey. The yellow Dortmund Haaland jersey and blue Erling Haaland Norway jersey has always been the topsellers at SoccerDealShop. Dortmund or Norway? It's your choice. Get a Haaland soccer jersey now.