Keywords: soccer jerseys
What are soccer jerseys made of? The short answer is polyester. Almost every soccer jersey is made of 100% polyester. Polyester, used in both replica and authentic jerseys, is a man-made polymer. A polymer being, as defined by the Oxford Dictionary, "a substance that has a molecular structure consisting chiefly or entirely of a large number of similar units bonded together." Those "similar units" are known as Ester Groups and they come together to form synthetic textiles.

Compared to materiels like cotton and even wool which were used in soccer jerseys until the mid-twentieth century, polyester is much better in many ways. It offers many benefits, lightweight yet durable, perfect for spending large amount of time on the soccer field.
It's also breathable and moisture-wicking, so your sweat evaporates through the fabric and you'll stay relatively dry.
As a man-made material, polyester can be manufactured in a more consistent way than other fabrics. A consistent manufacturing process helps increase the affordability of the material. And Its soft design adds to the comfort factor, while maintaining its durability.
What's more important? Polyester has colorfast properties. This means it doesn't shrink or bleed as cotton does, making it more resistant to stains. If the jersey has neck trims, the construction is also 100% polyester, ensuring the colors of the shirt and neck don't bleed into each other.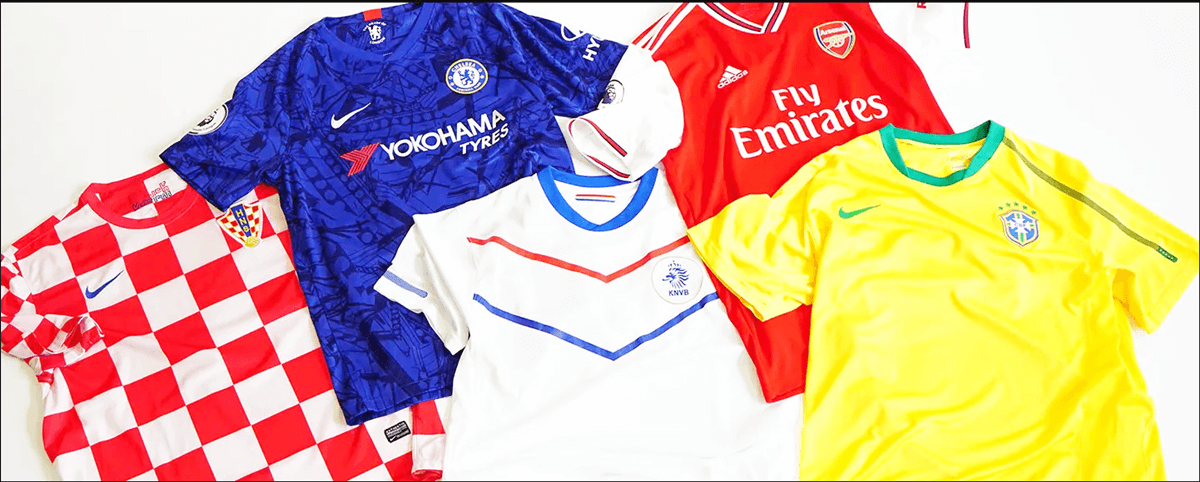 Other Materials That Make Up Your Soccer Jersey
For some jerseys, elastane, also called spandex, in small quantities may be woven into the material. Elastane is not as breathable as polyester, so it doesn't make sense to use it in large portions on the shirt. However it is used because of its elasticity. They can stretch a great deal before rupturing or tearing and also very easily returns to its original shape. It's an excellent material to prevent tears from any slight jersey pulling that may occur in a match, which is a key benefit in soccer with how physical the game has become, including jersey pulling and tugging. You might find these around the neck and arms of your jerseys.
Lastly, the material for the sponsor logos and badges is commonly polyurethane. Polyurethane is completely water resistant and needs to be heat sealed onto the kit.
These two materials(elastane/polyurethane) were used in so small quantities that they are often ignored. The main ingredient for soccer jerseys is polyester.
When selecting a jersey fabric, make sure that the weight of the garment is also taken into consideration. Too heavy material will be uncomfortable during game play while too light may not provide durability on impact areas such as tackles or collisions. Always test out a sample size before purchasing large quantities of any type of clothing – even if you plan on wearing your new jersey every game.

Polyester is a popular fabric for soccer jerseys because it's resistant to water and lightweight to wear, making it perfect for soccer games. All the soccer jerseys at Soccerdealshop is made of 100% polyester. You can find polyester jersey fabrics in all different colors and styles, so you're sure to find the right one for your team or player here. The correct selection of the soccer uniform can enhance or detract from the team's overall performance, and therefore deserves appropriate attention.