R
eal
M
adrid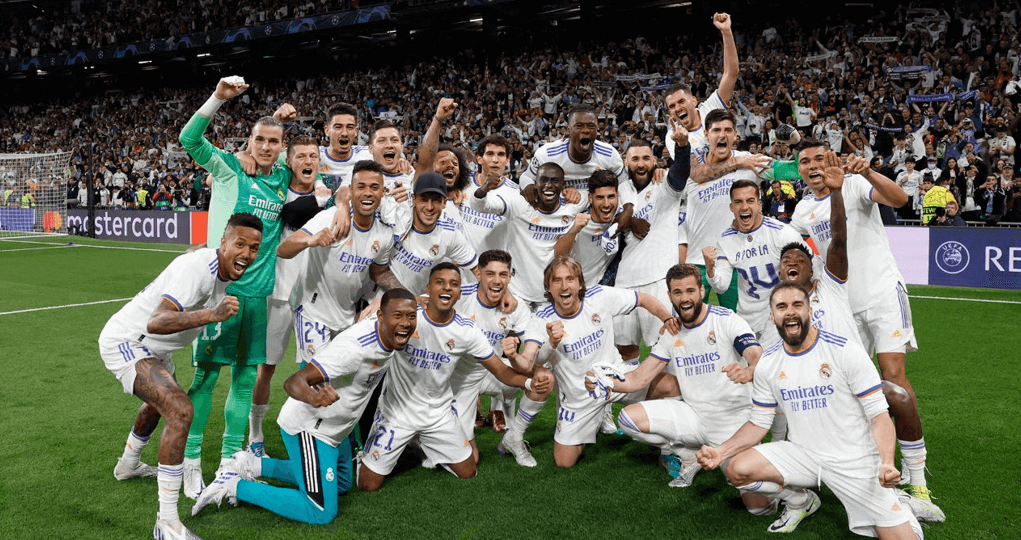 Madrid FC was founded in 1902 and became Real (Royal) Madrid in 1920, thanks to King Alfonso XIII. In 1932, they became the first Spanish club to win the league title twice, but then came civil war and World War II. In 1943, Santiago Bernabéu de Yeste, a former player, became club president; if you recognize that name, it's probably because their stadium is named in his honor.
Bernabéu ran the club for 35 years, until his death in 1978, and in the early part of his reign, they became the biggest club in the world. He rebuilt the stadium and training facilities, and when the European Cup was formed in 1955, Real Madrid won it the next year. Then they won it four more times for a five-year winning streak which has never been equaled and which resulted in the club being given the original European Cup for all time. They won the 1960 final, 7-3, over Eintracht Frankfurt before a crowd of 127,000 in Glasgow's Hampden Park. That team, often called the best ever, included legendary names such as Alfredo Di Stéfano, Ferenc Puskás, Francisco Gento, and Raymond Kopa.
In all, Real Madrid have won the European Cup, now known as the UEFA Champions League, a record 13 times, including three in a row from 2016 to 2018. They hold the record with four Club World Cup wins, and they have also won the Spanish La Liga title a record 34 times.
Real Madrid Jersey 2022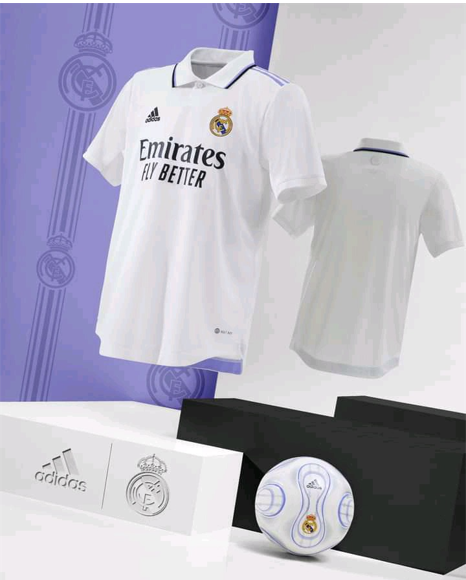 Real Madrid and Adidas have dropped the 2022/23 home kit. After more than a decade without it for their home jerseys, the Adidas Real Madrid 2022-23 home jersey combines the club's iconic white color with black and purple.
Since the inception of the club, the iconic white of the Real Madrid jersey has become the symbol of 'Madridismo' from the very first moment – passing through generations of players and fans.The Real Madrid Jersey 2022 continues to be a classic icon, with a modern twist, that unites all Madridismo's to continue writing the history of Real Madrid.
For the 2022-2023 season, Adidas ops for a pale purple accent color. The Adidas logo and sponsor logo are black, the Three Stripes 'Light Purple'.
The Real Madrid Jersey 2022 comes with a buttoned collar. A few subtle Real Madrid crests are embossed into the fabric.
To complete a classy look, the classic Polo collar of the Real Madrid Jersey 2022 features trim in purple and black.
Are you a fan of the Real Madrid Jersey 2022? Come to SoccerDealShop for all your Real Madrid Jersey 2022 needs.SoccerDealShop has a wide collection of Real Madrid jersey including Real Madrid Jersey 2022 and Real Madrid jersey 2021/22. Fans can browse SoccerDealShop's assortment of Real Madrid kits, jerseys and Real Madrid gear for every supporter.Shop the newest Real Madrid Jersey 2022 in every popular style from the home and away to the third kits so everyone can deck themselves out in los Blancos pride.A Real Madrid white jersey or a Real Madrid pink jersey? It's your choice.
Popular Player:
Karim Benzema,Sergio Ramos,Toni Kroos,Luka Modric,James Rodriguez