Keywords: soccer jerseys
Soccer jerseys aren't exclusive to the players. A soccer jersey is one item of clothing that anyone can use to style up their wardrobe. If you are a soccer fan, you might desire to get a soccer jersey of your favorite team. Then, you can style your soccer jerseys in any way you like, unlike the soccer players who have limited options due to the laws of the game. Styling soccer jerseys have been a part of mainstream fashion nowadays, a way to show off a bit of personality and look trendy while doing it. To make the best out of your soccer jersey, you will need to add the right pants, shoes, and accessories to your outfit. Below, let's explore the ways to style your soccer jerseys.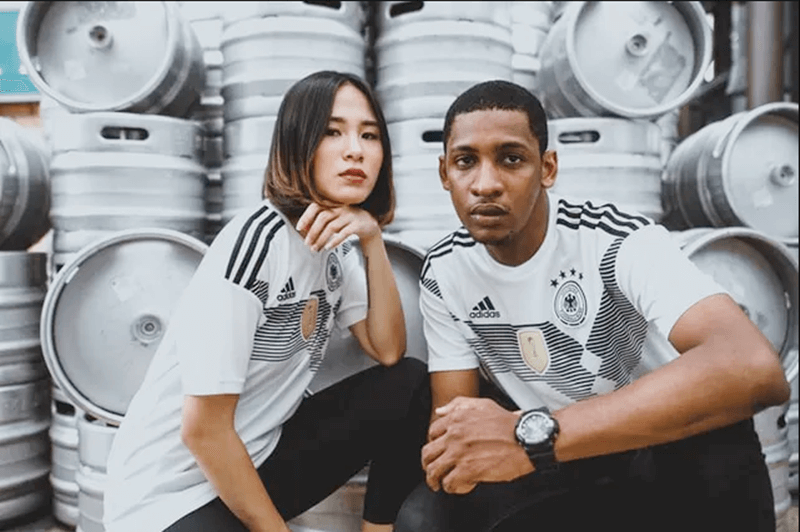 1. Pick a jersey
Most of the soccer jerseys look awesome in total, but there are also some ugly ones. Even if you are a soccer fan of a team, remember to pick a good-looking jersey. If their jersey for this season is ugly, you can wait till the next season or just buy one classic retro jersey if they look great. Not being a fan of any team creates more options because you don't have to choose one jersey of your favorite team to support them. Instead, you can choose any jersey that makes you look cool.
2. Choose the right color
The jersey of any color can be worn, but it needs to be correctly paired. If you dislike mixing and matching colors for your outfit, then just wear your regular blue jeans with your jersey. Blue jeans look great with many soccer jersey colors. However, if you are ready to put in a bit of extra effort, then here are some suggestions.
Bright colors tend to go well with more muted accents, so if you're planning on wearing a yellow jersey, black or gray might be best. Black and white jerseys tend to be easier to pair with accents (pants, shoes, etc.) but other colors like blue, red, and pink can add a pop of color to the fit.
With respect to color, the main rule would be to try your best to not wear pants and jerseys that are the same color. There are some exceptions like wearing a white jersey with white pants and a dark jacket, but a good rule of thumb is to keep it simple and use black, white or gray as accent colors.
3. Find the right size
If you are not a professional soccer player, you don't have to choose skin-fit jerseys. So maybe go for a relaxed jersey size. In other words, go for the regular size that you generally use for your t-shirts and other wearables. Also note that you might want to wear some clothing under your jersey too, so make sure that your jersey isn't too tight, or you might not be able to wear anything under it.
4. Pick proper match
While the jersey is usually going to be the main piece of your outfit, other matching items will help take your overall outfit to a higher level. The best items to match your jersey are regular jeans and a cool pair of sneakers, which will give you a casual and sporty look.
Besides that, you have some other options for your jersey. It can be paired with sweat pants, track pants, cargo pants, jeans shorts or casual shorts. You can look fashionable with any of these with your jersey.
You can also wear jackets on top of your jersey while keeping your jacket open to keep your jersey visible.
What's more? Accessories can be a great addition too. Adding some light jewelry like a necklace or earrings trends to look good, especially when the jersey it's paired with is a bit simpler.
Finally, make sure to stay away from any formal clothing unless absolutely necessary.
5. Keep yourself relaxed
Wearing a soccer jersey is supposed to be fun. Don't get bogged down about what team it is or the player on the back. If you like the jersey, wear it. There are better ways to pair different colors together, but regardless, have fun, keep it clean and relax.
Now you have known the ways to style your jersey. Want to get one soccer jersey to have a try? The reality is that jerseys can be expensive, but they don't have to be. If you are not a professional player, it's not necessary to choose authentic jerseys. Instead, pick up the replica version which will fit more like a regular T-shirt and less like Spanx. For casual usage, replica jerseys do the job and cost almost half as much while also being more comfortable than their authentic counterparts. And always look for discounts and sales. Soccerdealshop is a great place to start for more recent gear.